SAIGON RIVER CRUISE
So much to enjoy….
….so little time
Code: SIB-7
Full day: From Friday To Sunday
Start: 7:00 return around 16:40
Introduction
This trip is such an ideal for those who love abandon themselves into pristine nature. Today, this UNESCO-recognized swampy mangrove forest is home to hundreds of monkeys, bats, and many rare species. The tour offers you a chance to learn about the important wildlife sanctuary in Vietnam by its wetland bio system with mainly mangrove and by its daily life with friendly locals. The river-run will show you how to feed oyster in diving cages, how to build caves for salagane,… So, just enjoy like a real ecologist!
Highlights
Cruise along Saigon River toward the sea, crossing Nha Be River, Long Tau River
Visit Can Thanh port, Dong Hoa Fishing Port, Local market, Whale Shrine
Try or shop: oyster, salagane products ( optional)
Feast on local Vietnamese cuisine
Note: Due to the tide, the itinerary is subject to change without prior notice
Price: VND 2,039,000 per person
* Children from 3-10 years old: vVND 1,530,000 per child
* Children under 3 years: Free
Tour services inclusive: air-con transfer, English-speaking guide, boat ride, lunch, entrance fee, drinking water on boat & admission, VAT
Cancellation Charge:
After booking: 10% of the tour fare
Within 24 hours prior to the departure: 40% of the tour fare
Within 4 hours prior to the departure or no show: full charge
SAIGONTOURIST RIVER TOUR
A100 Ung Van Khiem St, Dist. 1, Ho chi minh City
Tel : 028. 35.125 139 – Hotline : 0938.639.665
Mr Thái : 0908.611.138 – Ms Tiên :0909.920.954
Ms Phương Anh : 0902.890.456 – Ms Kim Liên : 0858.363.673
Email : saigontouristrivertour@gmail.com
Website : saigontouristrivertour.com
CAN THANH – CAN GIO BIOSPHERE RESERVE
---
Sản phẩm khác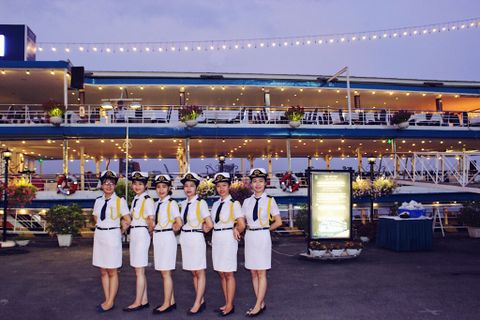 ĂN TỐI TRÊN TÀU NHÀ HÀNG SÀI GÒN
0₫
Tàu nhà hàng Sài Gòn hoạt động hằng đêm trên sông Sài GònSức chứa 600 khách, thiết kế trang nhã, thoáng mát. Tàu có 3 tầng, mỗi tầng phục vụ ăn uống và ca nhạc theo phong cách riêng đáp...
Xem chi tiết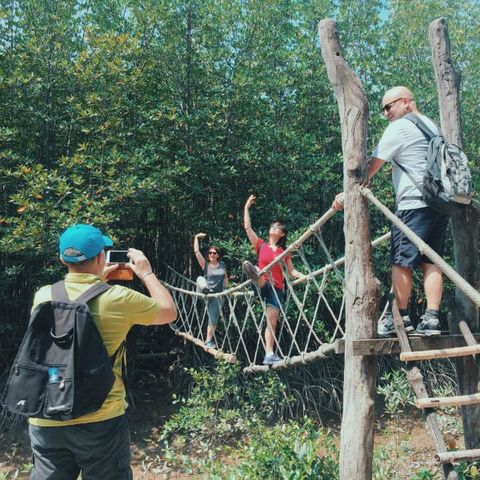 VAM SAT – CAN GIO BIOSPHERE RESERVE
2,145,000₫
SAIGON RIVER CRUISESo much to enjoy….….so little timeCode: SIB-6 Full day: Departure on Monday, Wednesday, Friday Start: 7:00 return around 16:00 IntroductionBeing the heart of the first mangrove biosphere reserve in Vietnam by UNESCO in 2000, Vam Sat Mangrove Forest is definitely worth...
Xem chi tiết